The zero alcohol beer that tastes so good that it makes you think that it's too good to be true.
Sagres 0.0
With 0.0% alcohol content and fruity hints of banana and cereal, the new Sagres 0.0 was developed for all those who look for more balanced lifestyles. A 100% malt beer, combining barley and wheat malts.
Sagres 0.0 has only 25kcal/100ml. Best enjoyed cold, at a temperature of 4-8ºC, it's the ideal drink for all occasions.
Beer Characterization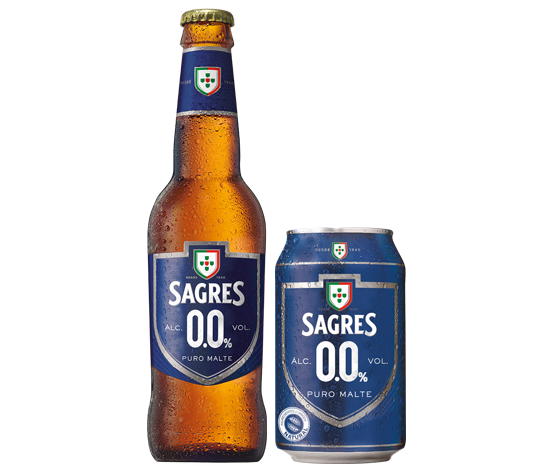 Sagres 0.0 Preta
After the launch of Sagres 0.0 comes the launch of Sagres 0.0 Preta, the first 0.0% alcohol ale in Portugal, with an unforgettable taste to be enjoyed at times of relaxation anywhere you want and wherever your thirst takes you.
With an enviable dark colour and copper tones, stable foam and perfect balance between coffee's roasted flavours and caramel's sweet notes, perfectly combined with its bitterness, the new Sagres 0.0 Preta is ideal for any drinking occasion.
With an eye on the latest market trends and responding to the growing trend for more balanced and healthy lifestyles, the new Sagres 0.0 Preta is the perfect choice as it keeps the full aroma and taste of a regular beer with alcohol.
Beer Characterization